The Vézère Ardoise
T
errasson is located on the Vézère river and the valley down stream is classified as a world heritage site by UNESCO. The cave-lined Vézère valley is known as the 'Valley of mankind' due to its wealth of prehistoric sites. Upstream the valley changes as the Vézère erodes into the central plateau, revealing the underlying geology with layers of slate (ardoise).

The ardoise of Travassac is particularly high prized for its quality for roof making. Whiles it elsewhere produces a terroir (soil) for the minerally Coteaux de la Vézère wines. Yet further the steepening incline of the river powered industries, and still provides hydroelectric power today. The landscape provides black angular stone that give a very different feel to the architecture, brown Limousine cows leisure in the grassland and apple orchards produce the AOP Pomme du Limousin.

Under the name Vézère Ardoise 47 communities of the old Limousine grouped themselves into a Pays d'art et d'histoire, piggy-backing on the established UNESCO recognized Vézère brand. The Vézère Ardoise area has a large number of villages and small towns, each with its own attractions and walking trails. We here like to briefly mention Pompadour, famous for its horses and castle, of special interest to those equestrian enthusiasts. The village of Allassac with its black stone 'Cesar tower' and church, Yssandon with its tower and Vigeois is the starting/ending point of the long distance walk through the Vézère gorges. Donzenac has an interesting historical walk around the village, but its main claim to fame are the Pans de Travassac.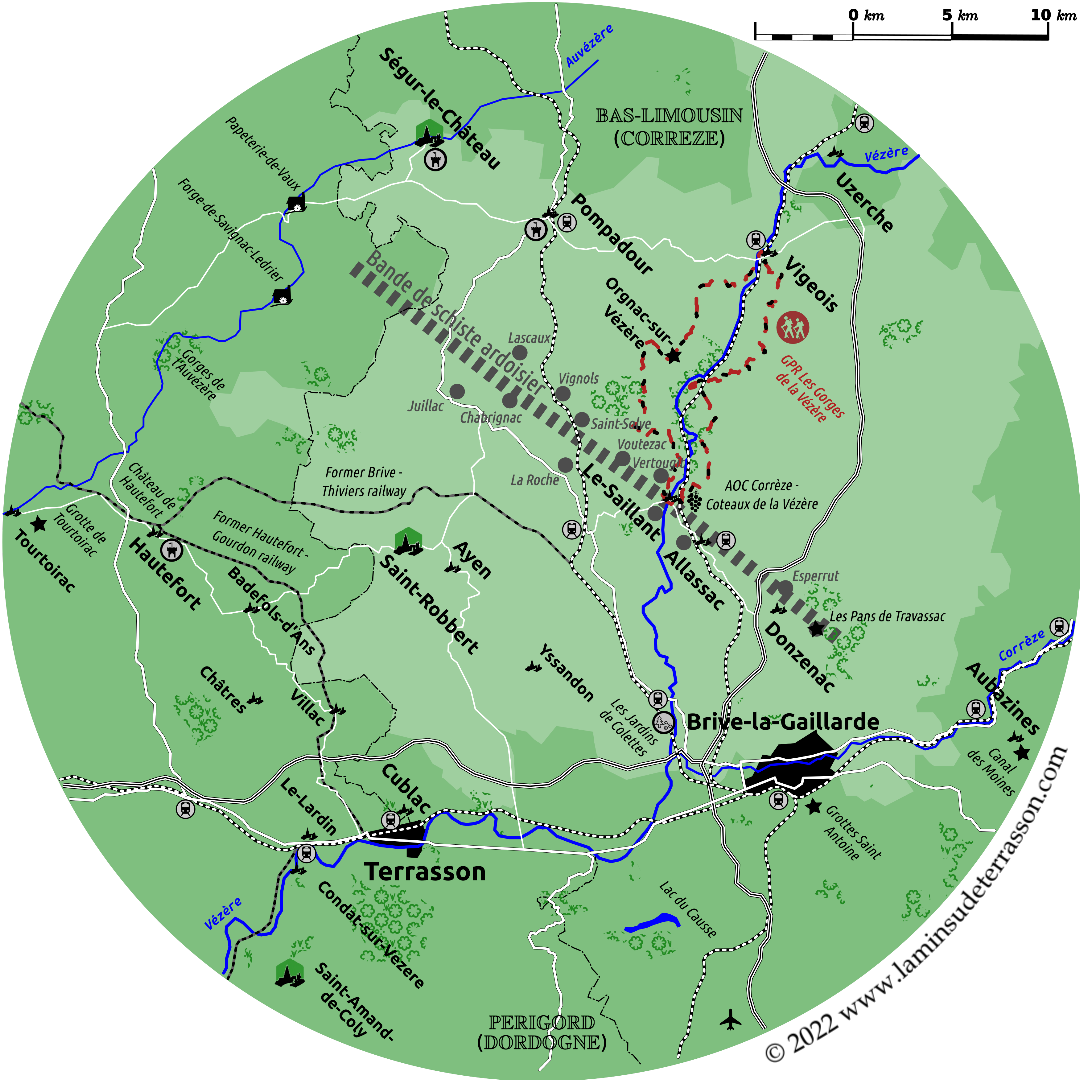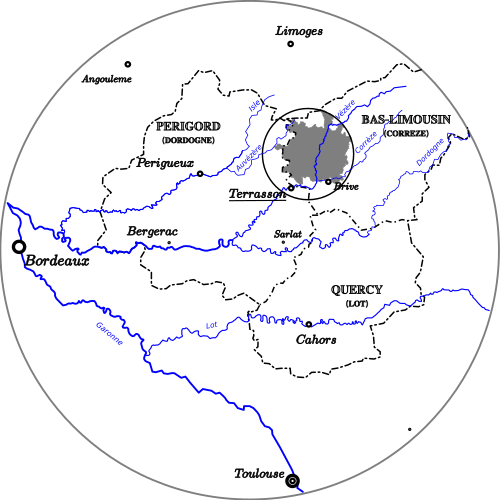 We here also include some of the places today in the Dordogne that historically were included in the Limousine (Payzac and Savignac-Ledrier), or remained independent on the border (Hautefort). And some interesting sites within the orbit of the Vézère Ardoise, like Tourtoirac and its cave, Aubazine and its Canal des Moines and hikes exploring old coal mining sites of Cublac (just outside Terrasson) to complete the picture.